Force to Vibration
Remember Force
a push or a pull, just what we usually mean.
Units Newtons. 1 N = 1 kg m s-2. I.e. 1 N will give a mass of 1 kg an acceleration of 1Â m s-2 . 1N is a gentle push.
Takes about 10N (9.8N) to hold up 1kg.
Takes about 9N to hold up text book.
Takes about 700N to lift up a 70kg student(that is about 164lbs).
NOTE: you MASS 70kg, you WEIGH 700N. Weight is a force.
(How do you tell the difference?)
Newton' s First Law says that unless there is a force then a body will stay still or move at constant velocity for ever.
Forces needed to make air move and give us sound. We will need to consider where they come from!
Force and Pressure
•Pressure: Force/area; 1Pa = 1N/m-2 or 1Nm-2.
•The air around us exerts ~100,000Pa or about same as supporting 15lbs of weight on each square inch of your body!
•You can actually suck nearly that much but only blow about 1/6 of that.
•Lying on floor pressure about 900Pa.
On bed of nails each nail has about 1N!
•In sound, pressure changes about 0.1Pa.
Force of a Spring
Springs obey Hooke's Law (Robert Hooke, 1635-1703).
F=-k x
F is force that spring exerts
x is the extension, stretch from rest
k is Spring Constant-stiffness
- sign means force opposes motion
if you stretch (x>0) it tries to shrink back (F<0)
If you compress it tries to expand.
Plot of force against extension is a straight line so call this a Linear Force
Spring Constant is slope of line.
Sinusoidal Motion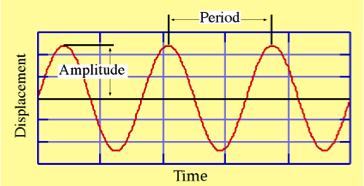 Amplitude is max excursion.
Period is time to repeat = 1/Frequency.
Thus Frequency=1/Period
Units are Hertz: 1 Hertz is 1 period per second
Phase is when wave goes through zero.
Position and Velocity in Sinusoid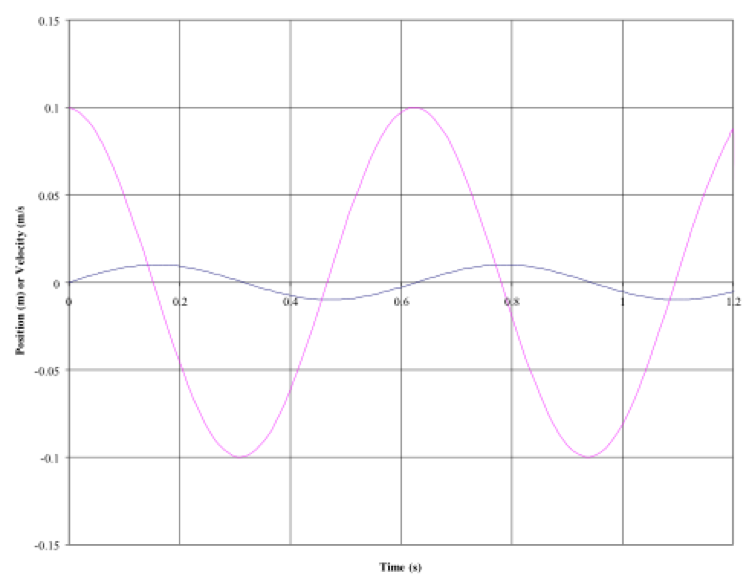 Motion in a Sound Wave?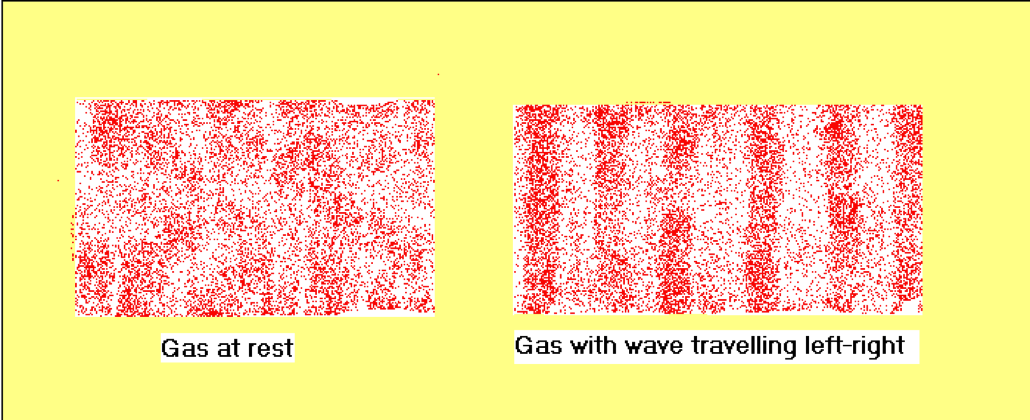 Motion in a Sound Wave?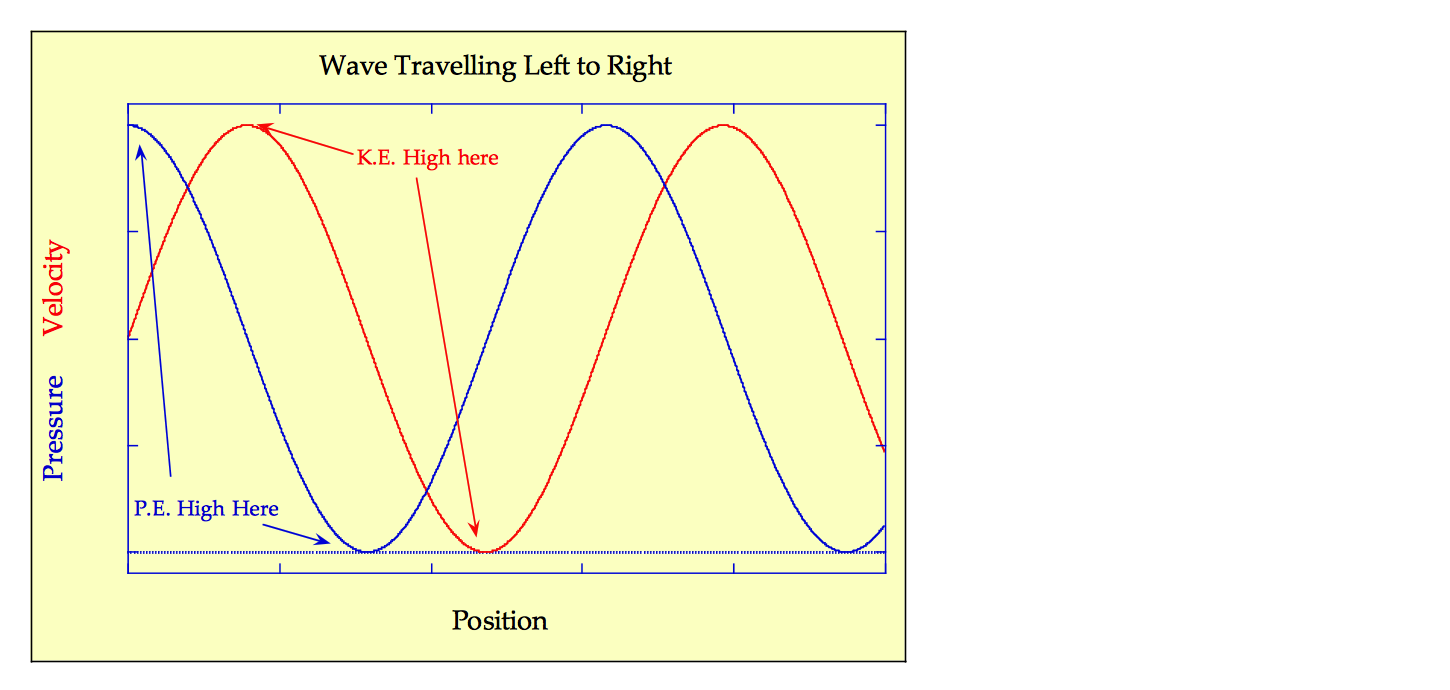 Energy.
Types of Energy
Kinetic Energy, Potential Energy, Heat
Electrical & Chemical (related to PE), Sound (bit of both)
Heat is really a kind of localized kinetic energy but common enough to treat on its own.
Kinetic Energy
Energy of movement
Name from a Greek word for motion
Energy a body has simply because of its motion.
Kinetic Energy =½ m v2
The heavier it is the more energy it has.
The faster it goes the more energy it has.
Energy grows MUCH faster with speed than with mass!
Potential Energy
Energy that an object has because of its position or state. There but not apparent.
E.g. Gravitational P.E. = m g h.
E.g. Spring P.E. = k x2
k is the spring constant
x is the extension, the amount of stretch
the stronger the spring the more energy it has
the further you stretch it the more energy you store.
Spring/Mass Energy
K.E. ½ m v2 greatest as mass goes through equilibrium where it is going fastest.
K.E. minimum at ends where mass is still.
P.E. ½ k x2 greatest at ends where spring is stretched most.
P.E. minimum at center, where spring is un-stretched from equilib.
So total K.E. + P.E. = Constant.
Total energy = Max. P.E. ∝ Amplitude2.
Sinusoidal Potential Energy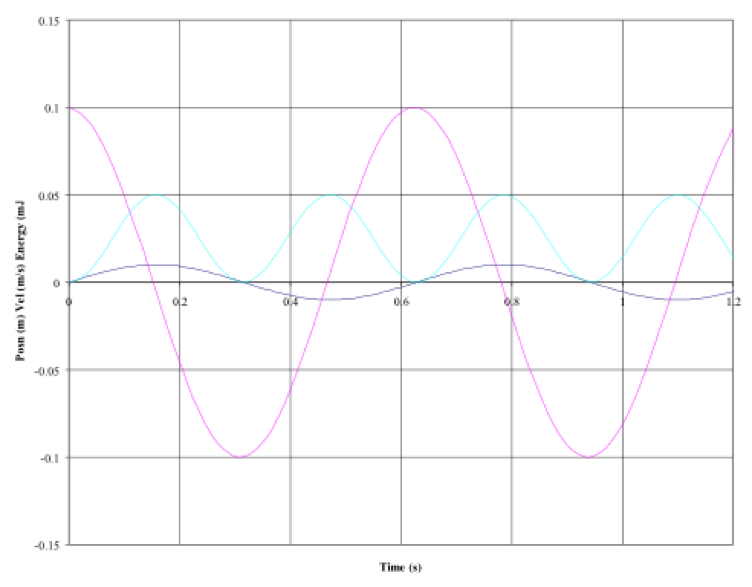 Sinusoidal Total Energy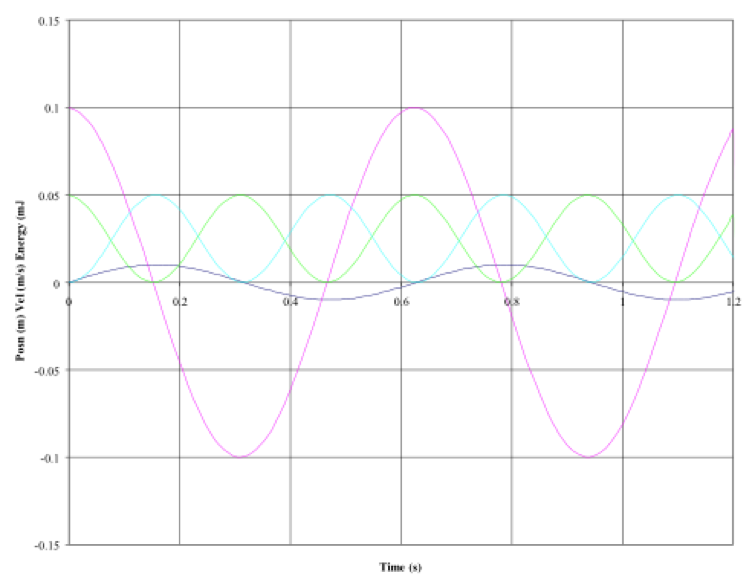 Energy in a Sound Wave.
Kinetic energy is in the movements of the air.
Air is the mass and the velocity is the air moving from high to low pressure regions.
Potential energy is stored in the springiness of the air.
Air in the most compressed and most expanded regions has the most P.E.
As the wave moves the energy is carried along at the speed of sound.
First Law of Thermodynamics
The First Law states that the total amount of energy in a closed system is a constant.
A closed system is one where we are careful to include all the same particles before and after the experiment.
This is an absolute law. In centuries of searching no errors have ever been found.
In most systems it means that the sum of the kinetic and potential energies is constant.