Steve works with us to design and build new equipment, and organize and maintain the equipment we have. He has extensive experience in metal and wood working, and in electronics construction and repair.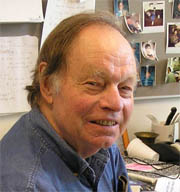 James Ring (Emeritus): Ph.D. University of Rochester.
Nuclear Physics, Psychophysics and Environmental Physics (including solar energy, radon, nuclear physics and the indoor climate, and ancient Roman baths). Students have joined him in projects in all of the above fields. Work with students on the Solar Classroom at Hamilton and computer energy management at the College has been presented at international conferences. Recently, using his experience in experimental nuclear physics, he has worked with Professor Gene Domack (Geology) on radioactive dating of Antarctic core layers.

Jim Schreve: M.S. University of Wisconsin at Madison
Jim teaches laboratory physics and supports the department in a variety of ways including collaboration in the design and fabrication of experiments, the creation and organization of experiments used in lecture and laboratory classes, and the supervision of our technical staff.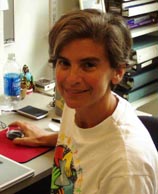 Ann Silversmith: Ph.D. Australian National University, Laser Spectroscopy of rare earth based solids.
With the help of grants from Research Corporation and N.S.F. she has established a laser lab here. One of her students, Brandon Collings '94, won the Apker Award for undergraduate research, a national award offered by the American Physical Society. Current research focuses on synthesis and spectroscopy of sol-gel glasses containing rare earth impurity ions.

Walt Zarnoch: Walt has extensive experience using and teaching fabrication techniques in both industrial and academic settings. He has helped design and fabricate laboratory equipment at Hamilton in connection with projects that are part of national scientific collaborations.
Physics People
Current Faculty
Instructor
Emeriti
Staff
Students